If you are in the mood for a waterfront adventure, then we recommend a visit to downtown San Diego's Seaport Village.  There you'll find a wide array of shops and eateries to entertain you while likewise having opportunity to soak up the sun by the San Diego Bay.
The marina at Seaport Village is filled with many types of boats.  It's a scenic area that has plenty for nautical enthusiasts to enjoy.  Even the Coronado Bridge can be seen in the distance.
Of course, being right by the ocean means balmy breezes are certainly in store.
Another aspect that makes San Diego's Seaport Village very eye-catching is its proximity to the downtown skyscrapers.
Understandably, Seaport Village incorporates nautical elements in its architecture.
There's a lot of shopping venues available at Seaport Village.  This storefront was one of our favorites because of its Old West theme.
And what would Seaport Village be without some shops that cater to the seafaring- and coastal-loving consumer?  Here's a shop that sells seashells and other nautical decor.
There are a number of great dining dives to be found at Seaport Village.  Folks can choose to dine indoors or even outdoors, as some of these umbrella'd tables demonstrate.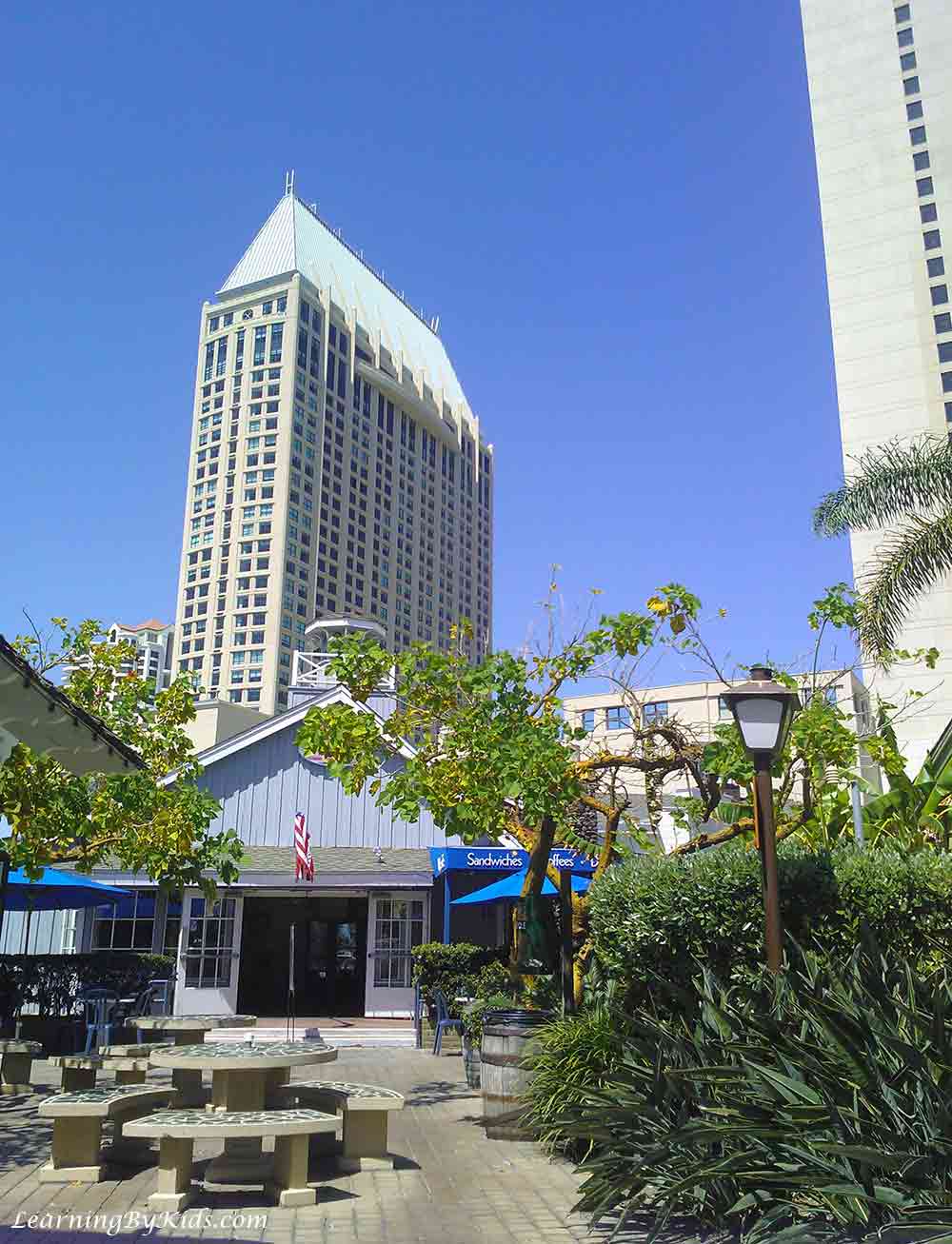 Plus, there are shops children can enjoy at Seaport Village, too.  We were drawn to this store — called Kite Flite San Diego — which specializes in kites, windsocks, pinwheels, flying contraptions, and other air-propelled toys.
Also at Seaport Village are numerous birds — not just seagulls, but ducks and water fowl, too.  Here's a photo of a small dock where ducks, geese, and other waterbirds frequent because of the ponds that can be found at Seaport Village.
And, if you fancy wishing upon a sea star, then Seaport Village is worth a visit.